FAQs | SafetyHQ - The Workplace Safety and Personal Protective Equipment Specialists
Can SafetyHQ order in an item that does not appear for sale on this website?
All products available for pre-order will clearly display a Pre-order now button and the estimated date of the items being restocked. Please scroll down to the bottom of the page to find out more about pre-orders. Unfortunately, we are unable to special order in products for customers which we do not stock.
If an item is showing as being out of stock we will normally have more arriving within a few days, click on the notify me button next to the item to have our system notify you once it is back in stock.
I have an issue with an eBay order, can you help?
If you have made a purchase on eBay please contact us via your eBay account for the fastest response.
Can I contact you via phone?
We operate online, our margins are low and as a result, we do not have customer support or can accept orders via phone.
Can I cancel, update or edit my order?
Please contact us here with your order number for assistance and we will try to help you as soon as we can>
I have only received part of my order and some items are missing?
The items in your order may have come from different warehouses depending on where our stock is located. Please check your order dispatch notification email which should indicate multiple tracking numbers which will allow you to locate your remaining parcels.
If this is not the case please contact us with your order number.
Do you offer a refund if I change my mind?
We do not offer refunds for change of minds.
My item arrived faulty, damaged or is different from what I ordered can I return it for a refund or replacement?
Once we have authorised a return we will pay for the return shipping by emailing you a pre-paid return label, which you will need to print and attach to the item and drop off at the post office to come back to us.
In the case of bulky items delivered by courier, we will authorise a pre-paid return in which case you need to deliver the item back to the closest depot where the pre-paid return authority will be waiting. Unfortunately we cannot arrange a pick-up from your delivery address.
Shipping
How do I track my order?
All items are sent with tracking numbers unless otherwise indicated in the listing.
Once the dispatch is arranged via the courier a tracking number is generated. We email you this tracking number as soon as it is generated when the goods are dispatched.
If you wish to track your parcel please visit the courier tracking website as listed on the dispatch notification with your tracking number.
Click here to visit the Australia Post eParcel tracking website.
Please note that the tracking number can take up to 24 hours to upload on to the Australia Post website.
If we dispatch your order using one of our courier companies you will receive a dispatch email advising you of the consignment number and link so that you can track and trace your order until it arrives at your address.
My tracking number doesn't work?
If you have an invalid tracking number and it is within the first 24 hours after dispatch Australia Post may not have scanned your parcel yet. Once 24 hours has passed this should now work.
How long does it take you to dispatch my order?
We dispatch within 2-4 working days of your cleared payment being received.
How long does delivery take?
From our experience generally, items arrive 3-5 working days for delivery to a capital city in any state, 4-7 working days for delivery to most large regional towns and 5-10 working days for delivery to other remote locations.
These delivery times are estimates only, and actual delivery times may vary.
During peak periods (Easter, Christmas and public holidays), deliveries may take longer. We cannot advise or specify a delivery date or time as this is not something that our couriers offer.
Do I have to sign for my order?
Yes, deliveries generally must be signed for and anyone at the delivery address who receives the products shall be presumed by us as to be authorised to receive the order.
If you wish for your consignment to be left without a signature, please request this prior to dispatch. Normally our couriers will not leave an item without a signature unless it has been authorised.
Please note that if you do choose this option that you release us from any liability for your delivery and item not received rights.
Can I pick up my order?
We have multiple warehouses located across Australia and we are unable to allow pickups at this stage.
How much does shipping cost?
A large majority of items in our store are freight free, but please refer to each individual listing regarding the shipping costs. We have multiple warehouses across Australia and will try to ship from the closest warehouse to your delivery address to ensure that you receive the best possible shipping price.
Does shipping including insurance?
Yes, we provide free shipping insurance on all orders regardless of the size or carrier. If your order arrives damaged please take a photo and contact us here for assistance.
Can you send orders overseas?
At this time we are only able to ship items within Australia.
I missed my delivery, can I have my order redelivered?
If you have received a missed delivery card from our couriers or Australia Post please follow the instructions provided which will ensure that you receive your order in the fastest way possible.
Sometimes a courier will take your order to the closest Post Office or Courier depot which you may or may not be advised of. If you can please contact your local Post Office or Courier depot with your tracking number to see your order is awaiting collection.
After multiple unsuccessful delivery attempts, the courier or post office may return the item to us whereupon we will contact you for further instructions. The order will only be re-dispatched upon receipt of the appropriate second shipping charge. In the event that the re-delivery charge remains unpaid for more than 30 days, your order will be deemed abandoned and may be offered for resale or otherwise disposed of.
Does my item have a warranty?
SafetyHQ is a registered Australian business and complies with the Consumer Guarantees under Australian Consumer Law. All items sold by SafetyHQ are covered by warranties.
If an item is considered by the buyer to be faulty please contact us first for troubleshooting assistance in case the fault relates to factors such as installation or components not included but directly related to the use of your product.
If all troubleshooting tips fail the product warranty will be honoured as per the manufacturer's warranty policy which may involve a refund, replacement or repair at the manufacturer's discretion depending on the severity of the fault.
You will also need a copy of your original proof of purchase.
Where can I find out more about a product warranty?
Most of the brands and manufacturers will specify their full warranty periods and terms on their own websites, this is generally the best place to find this information. If you are having difficulties understanding a product's warranty please contact us here for assistance.
Can SafetyHQ offer garment embroidery?
Yes! SafetyHQ is now excited to offer custom embroidery on a select range of shirts, jackets, vests, and jumpers from Portwest workwear.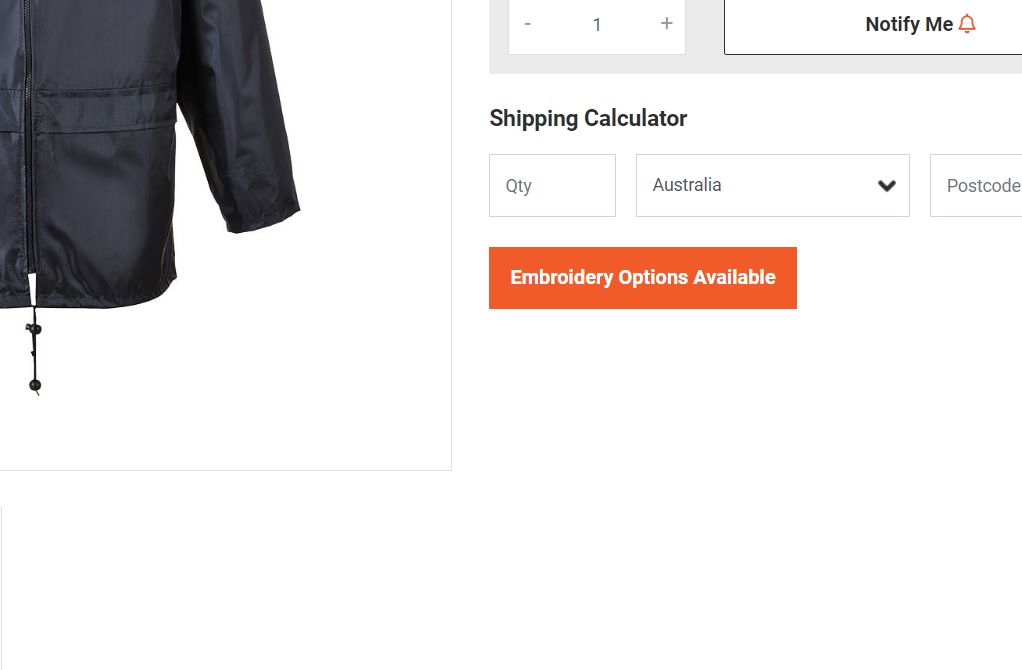 Currently, we can embroider imagery and text on the left-hand side breast of these garments. Look for the Embroidery Options Available button to get started.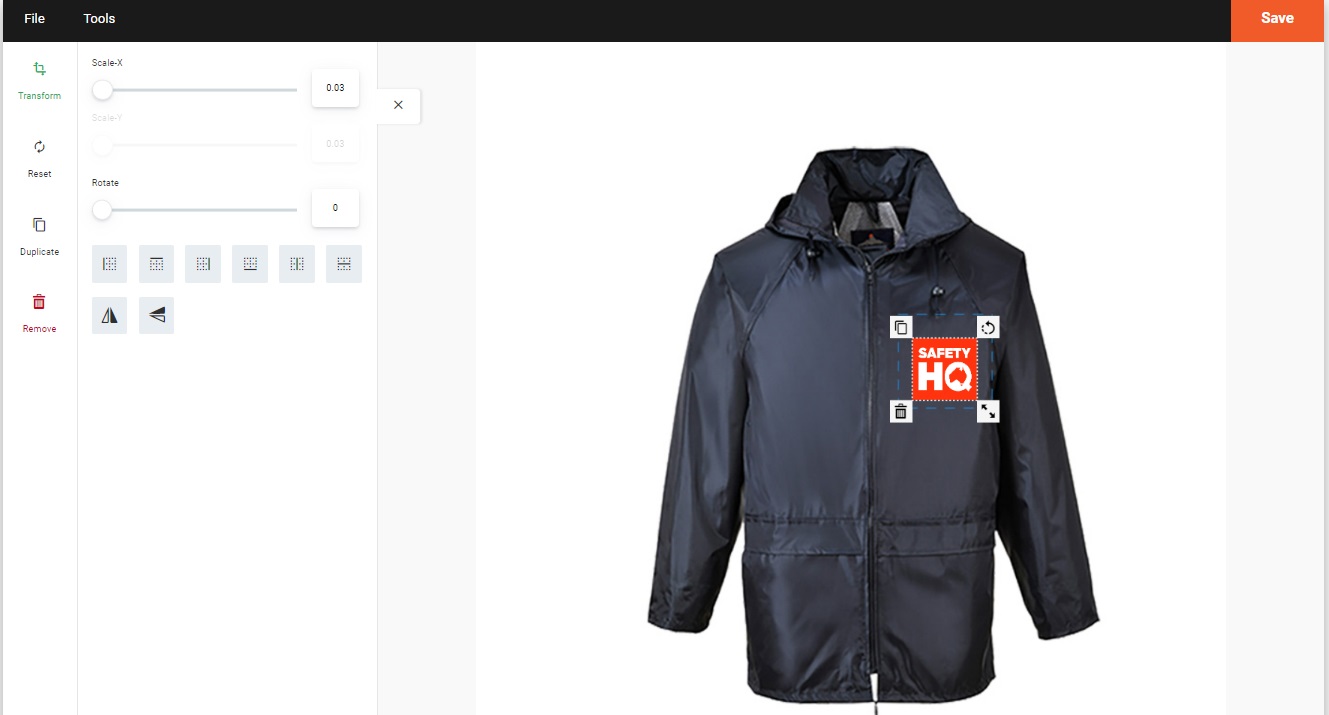 Using our brand new embroidery widget customers can now upload image files, create, save and download their own custom branded designs.